Sometimes, it's easy to forget that social media is, in fact, social.  Every time that certain car commercial comes on (you know, with the rep reading tweets and their hashtags), someone in the room with me asks, "What's a hashtag?"  It's a link to all the tweets in the world with said hashtag.  Then the inevitable, "But…..why?"  So you can see what people are saying (and jump into the conversation, of course)!  We're so focused on using the Internet to throw information out into the universe that we forget the best way to use it; no one wants to be talked at, they want to converse.  Social media, and the marketing that goes with it, is virtual word of mouth.  It's a conversation.  There are people constantly talking with and engaging other people.  If you want your business to be successful, you need to engage as well.
Let's say I work somewhere like "Office Space."  I have 3-5 on any given day asking me to tweet something, usually a promotion.  Of course, they all think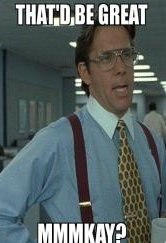 their message is the most important one to disseminate (so it must be posted NOW).  Well, when you overload people with text and they aren't getting anything meaningful out of it, guess what will happen to your message? It'll get tuned out (or they'll just unfollow you period).  Now, when Lumbergh comes back 5 minutes later to ask if anyone is talking about it, he'll be let down because the answer is no.
Long story short: be social.  Show you care about the community that you've built:
Ask questions.
Answer questions.
Include comments when you retweet whenever possible.
If you need to promote services or events, do it in a way that's natural and not pushy.
Mention people to get the conversation going if you have a piece of information that you think is of interest to them (just don't be spammy; no one likes that).
And don't forget to "listen" to the conversations.  It's a two-way flow of information.  Don't expect to get a response if you are not responding yourself.