Networking has never played a bigger role in the job market than it does today.
With thousands of unemployed (but qualified) professionals in the market, competition for jobs is fiercer than ever. It's not enough to have a college degree. Heck, not even a masters degree is enough anymore.
Finding a job comes down to you: your personal network and your unique value proposition.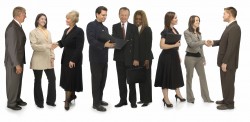 As an enthusiastic young professional, I've had my fair share of networking experiences. While each experience is slightly different (the size of the audience, the type of crowd, the style of event, etc…) there are some basic tips to keep in mind regardless of the opportunity to find yourself in.
Prepare: It's not likely that you'll get a job offer (or even an interview) at a networking event. However, it can't hurt to be prepared. Read up on the professionals attending and have a one-minute elevator speech, business cards* and some examples of your latest accomplishments ready on hand in the chance that you get to make a "pitch".
*Be sure to carry your business cards in your breast pocket so they are easily accessible.
Dress the part: Dressing up makes you look good and professional. When you look good, you feel good. When you feel good, you're more likely to come across as confident. People gravitate towards people with confidence.
Show up early: Arriving early to a networking event is a much better idea than showing up a few minutes late. Events are usually less crowded early on which makes it easier to find people who aren't already engaged in conversation. Similarly, arriving early will help ease your butterflies if you're a nervous network-er.
Don't be shy: Don't wait for someone to approach you to start a conversation. Take initiative! If you see someone you would like to speak to, go introduce yourself. If that's too daunting, ask to be introduced to someone through a mutual connection or try walking up to a small group of people and ask if you can join their conversation.
Ditch your expectations: Attending a networking event isn't going to get you a job immediately. The best way to approach it is to go in without any expectations.
*Remember: this isn't a sales pitch; it's an opportunity to make a positive or memorable impression and get the conversation started.

Listen: Find a good balance between talking and listening. Don't just talk; converse. When you listen attentively, you absorb — you can use the knowledge you absorbed to further foster the relationship.
*For example: try to use the other person's first name a few times during the conversation. (People like hearing their own name and it'll help you remember it once the conversation is over.) Also try to remember something specific about each person you meet; you can include it in your follow-up with them. Remembering the little things goes a long way in showing that you're someone who is engaging and interested in fostering relationships.
Be passionate: Excitement is contagious. Win people over with your excitement over your ideas. Talk about what you enjoy doing (and why,) and ask others to do the same.
Relax: A smile and a deep breath can go a long way in steadying your nerves and making you look more comfortable and inviting.
Mind your manners: This might seem obvious but it bears repeating: make eye contact, bring people into the conversation, chew with you mouth closed and say thank you.
Quality, not quantity: Ditch the idea that getting a lot of business cards means that you "killed it" at a networking event. Focus on creating stimulating, quality conversations with individuals you hope to connect with. Aim to converse (and exchange contact information) with a handful of people who you would like to build a real professional relationship with.
Focus on "we" vs. "me": Networking should never be just about you. It's about helping each other. Be proactive about sharing information and recommendations or offering to make an introduction.
Follow up: Since everyone has their preferred method of communication, I tend to ask people directly how they'd prefer to keep in touch (email, phone, LinkedIn, etc.). Regardless of how you follow up, make sure you do it within 48 hours of the event.
*Remember: the follow up is just step two of the process – don't forget to keep the conversation, and the relationship, going.
Don't give up: You might not get a response to every outreach you make. Even if your efforts go unanswered, don't lose hope. People are busy; emails get sent to spam; people lose track of time. Try reaching out again in a few weeks and see what happens.
I took to Twitter and asked my own professional network to share their number one networking tip with me. Here are the responses I received:
"Don't just think about what someone can do for you, focus on what value you are bringing and what you can offer." – Elizabeth Callahan @Bflo_girl
"Make it light and personal but don't force connections. If you're someone who is fun to be with, others will want to work with you." – Taylor Griffith @TaylorLeigh_G
"Don't make it about a sales pitch. Get to know people, connect with them. Make them remember you." – Krystal Sondel @LovinOnBuffalo
Regardless of whether you use the tips above, the thing to keep in mind is that networking is about bridging a connection and a mutually beneficial relationship with another.
One event; one introduction; one conversation could open up doors that you never even knew you existed.