If you read a lot of SEO blogs, or even some copywriting blogs, you will see tons of posts about how great content should be your top priority for your website, if you want your website to rank well. This post is basically just going to beat it into your brains!
Why Good Content is Important to Search Engine Optimization (SEO)
Don't Be Too Wordy!
You know how it feels when you're sitting there at a table with someone who totally dominates the conversation and talks for like 30 minutes non-stop? Well, don't be that guy! You want to get your point across quickly, and effectively.
Use bulleted lists for displaying your services. Use short, descriptive sentences to talk about what you do. You shouldn't need more than just a few paragraphs per page of content. If you need to say more, maybe you should consider creating a separate page to go into further detail about that topic? Which takes us into the next bit of advice…
Pages Should Be Topic Specific
What do you mean, dude? I mean that when you want a page to rank well for "Banana Flavored Popcorn", make sure the page talks about Banana Flavored Popcorn. It should contain the main keywords of the topic about 3 or 4 times, preferably towards the top of your content. Just don't make it sound all weird by throwing too many of the keywords around. You'll just end up creating a bad user experience, and that is what we MUST avoid! Also make sure that the keywords are contained in your URL and Title. If your website doesn't allow you to manage this information, then you need to fix that. Yeah, we can help if you need it.
Images Support Content
You should have some images within your posts and pages.
Content management systems make it easy to add images to your posts. Some of them (ahem, WordPress) even make it easy to edit, resize, crop, the image before you post it to the page. You can also add the necessary meta data to the image, like the ALT tag. Just be sure to also make sure that the filename of the image is similar to the topic of the page on which it will reside.
Check out a recent article on Forbes.com about design and content.
Yes, Small Businesses Can Do This!
As a company that works with a lot of small businesses on website design as well as on Search Engine Optimization (SEO), we run into the same problem quite often. Our clients don't usually have someone within their staff that has the time, or ability to create content on a regular basis. They also feel that they can't afford to pay for someone to help them create their content. But, this if you want to do it right, you need to find a way. This doesn't have to be a $1,000/month project. It can be more affordable than you think.
You know yourself the best. Maybe you should be the one that writes the content? "But I don't have the time!" You can make the time. Start with setting aside 1 hour each week to start writing content for your site. Make up a list of things that clients ask about. Make up a list of things that you know are of interest to your clients. If you don't know, ask them! Use your lists as a base for what you want to write about. You can do this. It's like getting up earlier in the morning and going to the gym. Once you get into the routine, you will start to reap the benefits of getting it done!
Don't Just Hire a Writer
Businesses also make the mistake of falling for the sales pitches of companies that will create content for you. Often times, this content STINKS! They don't know your business. They don't know your customers. They don't know what they're talking about. They just want to make money.
You should talk to someone who is going to want to ask the right questions and create content that will help you. They should ask a lot about what you do, and who you serve, and why you do it. Maybe these are some things that you can have ready ahead of time? Talk to us first. Even if we don't end up working together, we can get you set on the right path.
Create a Content Calendar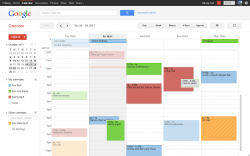 Do yourself a huge favor and create a content calendar. You can use a spreadsheet, a paper calendar, or even use your calendar on your computer (preferred) to set the dates and times as well as topics that you will post to your site. This will help to outline what you're going to write about, and when. It will also remind you to do it! That is why we use our Google Apps calendar and set up reminders to tell us when we need to write something. Sure, things come up, but then you can move your calendar event to another time that works better for you. Give this a try. I think that you'll find it to be a big help. Plan to post 2 new posts each week. See how you do.
Don't believe me, here's more advice on Content Calendars.
Heard Enough?
OK, out of fear of becoming too wordy within this post, I will end it now. There's a lot more that we can discuss, like how to find good topics, keyword research, etc. But we can do that another time. Just remember: CONTENT IS IMPORTANT! Very important!
Do you have questions or comments? Leave them below! Do you agree? Then please share this post with friends, family and your enemies using the buttons on the right below our latest tweets. Or, you can use the handy little buttons right below this message!
If you have questions about how to accomplish this on your website, please contact us. This is why we do what we do! We want to help your business succeed, and we have the resources ready to make it happen!

Call us: 412.467.6568