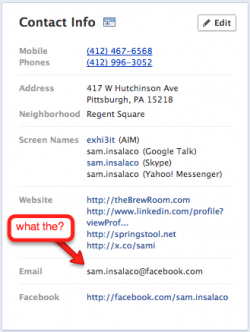 So, did you notice that Facebook just changed your email address under the ABOUT section of your profile?
Oh, no, you didn't? That's because they're sneaky! They want to sneak you into using their @facebook.com email address, not the one that you set your profile up with. Naughty Facebook!
Anyway, it's easy to change back.
Here are the steps:
Log into Facebook (duh)
Go to your profile
Click on About
Scroll down to Contact Info and click to Edit. You can make whichever email address you want to be Shown on Timeline. You'll see that the Facebook email address is marked as visible, and the others are not. Go ahead and make set it to be whatever you want visible on your Timeline.
Scroll down and click to Save.

Viola! All Done! Thank you Facebook for making us waste more time!